Russia summit is an opportunity for Africa to unite on Ukraine and get Wagner out of the continent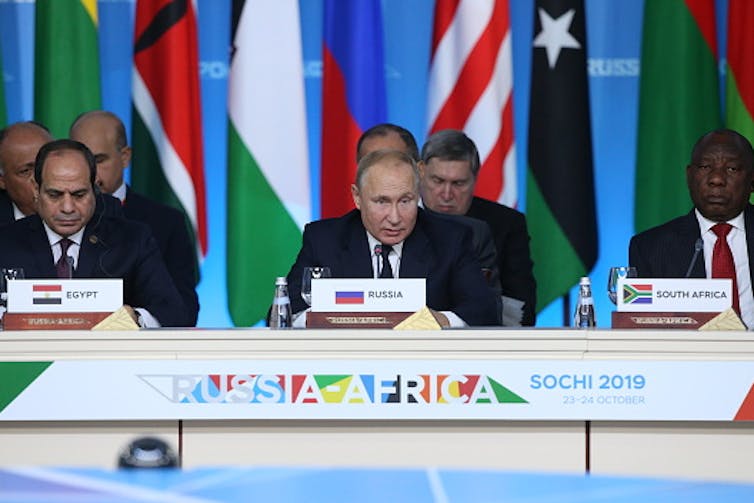 Gilbert M. Khadiagala, University of the Witwatersrand
Two critical issues must be top of mind for African leaders when they meet President Vladimir Putin at the second Russia-Africa summit in St Petersburg this week.
First, they should be concerned that they don't have a common position on the Russian-Ukraine war. The second issue of concern is the presence of Wagner group mercenaries in African conflicts.
As I have previously written on African efforts to bring peace between Russia and Ukraine, African voices are important in using their neutrality in contributing toward a peaceful settlement to the conflict.
I am a scholar of international politics who has written on major power engagements in Africa and on Africa's role in the Russia-Ukraine war. In my view, this summit serves as an opportunity for African nations to bury their divisions on the Russia-Ukraine war. These were heightened during the votes in the United Nations General Assembly in 2022.
The June 2023 African Peace Initiative by seven African leaders to Russia and Ukraine was a bold opening effort to find peace in a war that has created a humanitarian and economic crisis. The African mission comprised South African president Cyril Ramaphosa, Egypt's Abdel Fattah El-Sisi, Congo's Denis Sassou Nguesso, Comoros Azali Assoumani, Senegal's Macky Sall, Uganda's Yoweri Museveni and Zambia's Hakainde Hichilema.
But there have been some misgivings that the African peace initiative was not endorsed by the African Union, and excluded major African players. A formal statement at the summit in support of the peace initiative would remove doubts on its legitimacy.
Despite the widespread scepticism that greeted the African peace initiative, it made a strong case for peace to Russia and Ukraine. It has emboldened and opened doors for further diplomatic attempts by other global players.
The St Petersburg Russia-Africa summit should be an opportunity for Africa to put pressure on Russia to start unlocking some of the key issues raised in the 10-point peace plan tabled by the African leaders.
In recent phone calls with South Africa's President Cyril Ramaphosa and Ethiopia's Prime Minister Abiy Ahmed, Ukraine's President Volodymyr Zelenskyy showed more enthusiasm for the African peace plan. This is vital because during the June visit to Kyiv, the Ukrainian authorities were less enthusiastic about the African plan.
Russian mercenaries in Africa
Second, African participants at the St Petersburg summit must make their collective voice heard on Wagner Group mercenaries in African conflicts.
The lead-up to the summit coincided with reports that Wagner's leader, Yevgeny Prigozhin, planned to relocate most of his mercenaries to Africa. This after falling out with Moscow in June when Wagner forces launched a failed mutiny against the Russian government.
Wagner mercenaries have a substantive presence in the Central African Republic, Chad, Libya, Mali and Sudan. They have been accused of gross human rights violations and natural resource exploitation. In March 2022 they, alongside local forces, took part in the massacre of about 500 people as well as rape and torture. More abuses by the Wagner group forces have been reported in the ongoing civil war in Sudan.
At the St Petersburg summit, African leaders should remind President Putin that the Wagner Group is not Russia's best export to Africa. Moreover, it is not a friend of Africa. This includes those regimes that invited it into their domestic conflicts. A consistent policy of building bridges in Africa would begin with President Putin's condemnation of the mayhem of the Wagner Group in Africa.
A clear statement at the summit on threats from mercenaries would put pressure on African countries to seek peaceful approaches to their domestic conflicts. This would be a major achievement of the summit. It would dovetail with the long-standing African Convention on Mercenaries that African states signed in Libreville in 1977, and came into effect in April 1985.
Towards a new relationship?
Russia needs the summit to help it win more friends in Africa. But it should also be aware of concerns that it is unable to compete with the west and China in Africa because it does not bring any tangible resources to the table. Although at the 2019 Sochi summit Putin claimed that he would seek to engage in "competition for cooperation with Africa", none of this has materialised beyond military investements in conflict areas.
The St Petersburg summit is billed as an economic and humanitarian forum. The African leaders need to impress upon President Vladimir Putin that the most immediate humanitarian act he can take would be to allow exports of Ukrainian grain and fertilisers through the Black Sea. This is part of the 10-point African peace initiative.
Perhaps to entice more African states to attend the summit, President Putin has offered to replace Ukraine's grain supplies to Africa with Russia's grain, food products and fertilisers. But this unilateral promise is unlikely to meet all of Africa's needs.
It would also leave out other nations that depend on Ukrainian grain and fertilisers. For this reason, African states need to lean on Putin to renew the Black Sea Grain Initiative, which permitted the exports of grains and fertilisers to the world.
In addition, African states should use the collective weight of the continent to nudge President Putin to commit to a speedy end to the war.
Probably to lower the expectation of African participants at the summit, President Putin has spoken in modest terms about building national human resources capacity and inviting Africans to a global youth festival in Russia next year.
Gilbert M. Khadiagala, Jan Smuts Professor of International Relations and Director of the African Centre for the Study of the United States (ACSUS), University of the Witwatersrand
This article is republished from The Conversation under a Creative Commons license. Read the original article.