The empire sings back: the deep history behind South African soprano Pretty Yende's triumph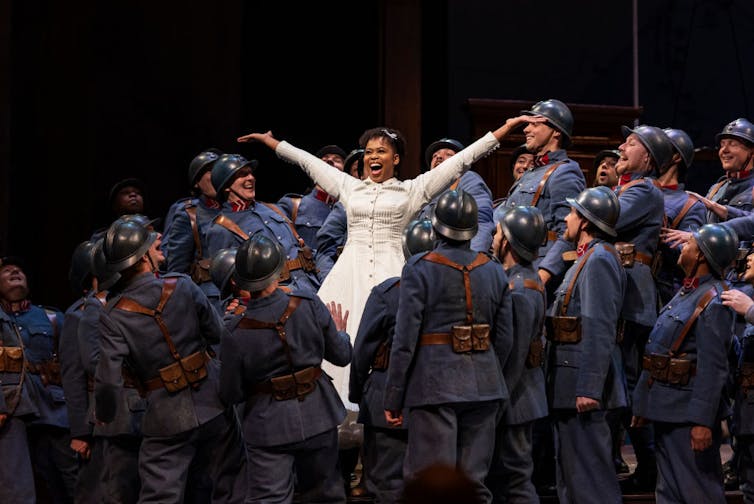 Thembela Vokwana, University of Fort Hare
Among the invited artists at the coronation of Britain's King Charles III was the South African soprano, Pretty Yende. Coronations are not events that take place often. What made the moment special is not just singing for a new king, but the rareness of the occasion. After millions of global television viewers experienced her soaring high notes, stage presence, musicality and star quality, audiences were no doubt asking, "Who is she, where does she come from?"
As a scholar of African opera with a particular research interest in various South African singers including Pretty Yende – and what is sometimes called Black vocality – I would like to present a slightly different history of her than most writers do. My interest here is showing Yende as a product of global histories and processes across time and space. That her singing is in fact embedded in the globalisation of the 1800s and its continuity to the 2000s. The varied and painful tapestry that ultimately led Yende back to Britain has a long historical basis.
My interest is to excavate Yende's vocal memory by looking at history and the community. Opera stardom did not surreptitiously land in her lap. Instead, home, church and school singing was foundational. For someone with no foundational classical education, to go on to sing in French, Italian and German (and speak these languages with ease) reveals how she has triumphed against the limitations of both empire and the legacy of apartheid's lack of opportunities for Black South Africans.
Amakwaya
During the reign of Queen Victoria, in the early to mid 1800s, a group of British settlers entered the port of what became known as Port Elizabeth (now Gqeberha) in South Africa. As they gradually moved east, a small group of Scottish missionaries settled on the banks of the Tyhume River to establish what was eventually known as Lovedale College.
It was at Lovedale that most locals learned to read, write and – importantly for the discussion here – sing and compose by notating music. It was in the Lovedale Press that the country's first choral composition was published. This space formed the seeds of a choir singing tradition called amakwaya.
Many Black South Africans owe their musical prowess to being part of a choir at school or in the community. The joy of singing came through preparing for competitions. Ever since the 1800s choir competitions pervade various sectors of society – schools, churches, government departments. These have eliminations which culminate in national finals. These competitions were based on Welsh eisteddfods.
Over the years, there have been modifications to suit local needs and tastes in the major national festivals. Uniquely for the late 1990s and early 2000s, opera arias, ensembles and choruses were prescribed in the repertoire.
Black communities in South Africa have no formal music tuition. Forms of training are relational, through singing with the family at home, and communal singing at school and church. This too is a product of historical processes.After colonialism, the white-minority apartheid government (1948 to 1994) provided a system of inferior education to black students who attended schools which did not have the resources to provide quality music education, a legacy that continued into post-apartheid South Africa. Born in 1985, Yende began her schooling in the early 1990s, as a transition to democracy was taking place in the country.
Thousands of kilometres from Lovedale, in the small town of Piet Retief in Mpumalanga province, Yende's musicality was incubated in her family's lounge. She sang with siblings, uncles and her grandmother, gogo KaDladla, who taught her choruses from a church-based form of music called amakhorasi that's accompanied by dancing and clapping of hands. She developed her voice there and at Ndlela High School, under the guidance of conductor Ndumiso Kwazikwenkosi Sithole, and in community choirs, particularly the Africa Sings Choir under George Mohlala. https://www.youtube.com/embed/w1bWw10hqBo?wmode=transparent&start=0
Thus, although first hearing French composer Léo Delibes' Flower Duet sparked great awe and interest in a genre she hadn't known existed before – opera – she was already part of a grassroots network of music making before embarking on an opera path. In a newly democratic South Africa, Yende won the national schools championship singing Austrian composer Wolfgang Mozart's Batti, Batti, O Bel Masetto. She earned a platinum category result, which means she bagged 90-100%. It would be just one of several competition victories that left judges like choir conductor Themba Madlopa mesmerised by her talent.
It is again from the community music scene that Yende received opera assistance and coaching – from the likes of choral music champion and opera singer Nolufefe Mtshabe and leading choir competition organiser Mzwandile Matthews. Yende finally benefited from a formal music education when, thanks to her eisteddfod success, she was accepted into the University of Cape Town for a diploma in opera studies in 2003.
Here, very much in brush strokes, I have tried to map the importance of amakwaya as an informal conservatoire for Black South African opera singers. Through sheer resilience and some good fortune, opera singers like Yende, Pumeza Matshikiza, Vuvu Mpofu, Musa Ngqungwana and Cecilia Masabane Rangwanasha made strides towards international stardom. None of them knew, as they joined a junior school choir, that they would become opera stars.
The global stage
Amakwaya (choirs) are known for teaching discipline. It is discipline and fortitude that led Yende to graduate cum laude from the University of Cape Town. She would embark on a remarkable spree of winning just about any competition she participated in. In 2016, in the prestigious international Belvedere Singing Competition, she won a prize for each category and was named overall winner. https://www.youtube.com/embed/AScMNGm2LNg?wmode=transparent&start=0
Her global career began with bel canto roles in the Italian opera style. Her scintillating voice led her to all the major opera houses around the globe. She has performed with great artists such as Italian tenor Andrea Bocelli and performed many leading roles. She has won national orders in her home county, Italy, France and elsewhere. She has shattered all imaginable glass ceilings. And this at only 38 years old.
In 2022 Yende was invited to sing at the Royal Philharmonic Orchestra's 75th anniversary celebrations at Windsor Castle. Her inimitable style must have mesmerised King Charles, because he reportedly extended a personal invitation to perform at his coronation.
Yende sang Sacred Fire by environmentally conscious British composer Sarah Class. The creative forces of two award-winning female musicians was formidable. But Yende's path is particularly singular.
Her performance marked a historical moment. Born into the oppressive legacy of colonialism and apartheid, she has adopted a Eurocentric art form and mastered it with skills honed by communal African tutelage. The result is a unique and resilient force. As she ascends the stage, may her ancestors guide her to even greater heights.
Makube chosi, kube hele. (Everything that is said, let it manifest.)
Thembela Vokwana, Lecturer, University of Fort Hare
This article is republished from The Conversation under a Creative Commons license. Read the original article.